Booking Request Inquire A Trip
Itinerary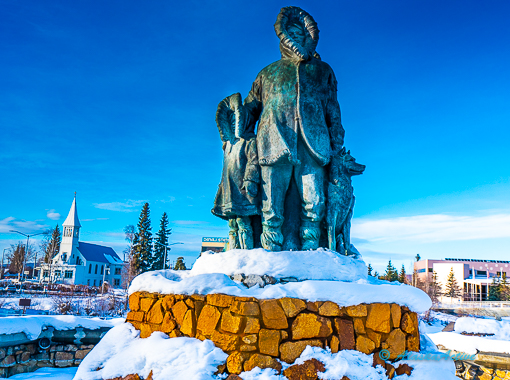 Fairbanks
(Overnight: Fairbanks )
Arrive in Fairbanks. Complimentary transfer to your first class hotel near the banks of the beautiful Chena River in downtown Fairbanks. Known as the Golden Heart City of Alaska, Fairbanks is tucked into miles of unexplored wilderness only 120 miles from the Arctic Circle. Fairbanks offers many winter activities; from the Open North Sled Dog Race Championship to the World Ice Art Championship - Ice Alaska. Relax during your first evening in Fairbanks and get ready for a few days of winter fun and adventure within the Last Frontier. You may watch the Aurora Borealis at night dancing on the northern sky and/or enjoy a dinner at the popular Pump House fine dining restaurant.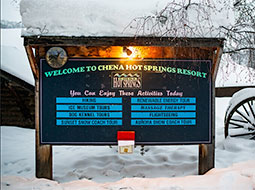 Fairbanks – Chena Hot Springs Resort
( Overnight: Chena Hot Springs Resort )
Morning on your own: explore the city and check out the winter activities or visit the famous Alaska University Museum with the States largest collection of gold, gold mining history and Alaskan heritage. Afternoon transfer to Chena Hot Springs Resort - a prime Northern Lights viewing area in the hills about 60 road miles northeast of Fairbanks. Tonight join the spectacular snow coach tour to see the aurora up close (included). From the resort you travel 30 minutes to the top of a ridge (2600 ft) where no city lights interfere the aurora. After arriving on top you can step inside the heated Mongolian Yurt to warm up and enjoy a hot beverage. For the next few hours you can always step outside and enjoy spectacular 360-degree Aurora displays. Return to the resort at around 2:00 AM.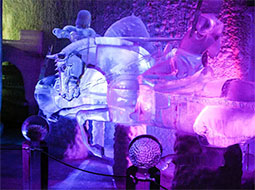 Chena Hot Springs Resort
( Overnight: Chena Hot Springs Resort )
Relax in the large heated mineral indoor pool, the outdoor rock lake and in numerous hot tubs – which are providing a great opportunity to soak or swim until the Northern Lights are appearing in the evening again. You have plenty of time to go dog sledding, visit a sled dog kennel tour, try snowmobiling or join a tour of the Ice Museum. Dinner (optional) at the rustic log lodge restaurant and then take a short walk to a heated cabin for another night of outstanding Northern Lights viewing opportunities. The resort is also known for its healthy outdoor opportunities in the pristine wilderness of Alaska´s great Interior - first discovered by gold prospectors at the turn of the century. In 1912, the geothermal area was the premier place to soak - for residents of the booming town Fairbanks.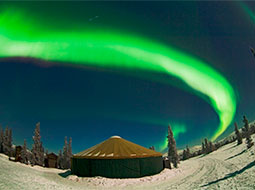 Chena Hot Springs Resort - Fairbanks
( Overnight: Fairbanks )
After breakfast spend some time to enjoy Chena Hot Springs Resort facilities. Transfer to your hotel in Fairbanks. Rest of this day at leisure. Fairbanks offers a variety of excellent gift shops and galleries such as the "Roseberry Art Gallery" with some tasteful gifts for your friends at home. If you travel during February or March - Fairbanks hosts the World Ice Art Championships, exciting professional Sled Dog Races and a variety of other winter carnival activities. Optional: Evening transfer from your hotel to a prime Northern Lights viewing lodge in the hills about 20 miles north of Fairbanks – far away from any city lights. Enjoy spectacular 270-degree Aurora displays through large picture windows from the comfort of a heated cabin or outside.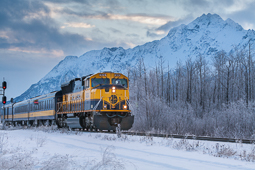 Fairbanks - Anchorage | By Alaska Railroad
( Overnight: Anchorage )
Transfer to the Fairbanks rail station and departure at 8:30 AM for a very scenic full-day rail tour to Anchorage. All seats within the comfortable train compartments are pre-reserved and the staff takes care of your entire luggage. Enjoy the ride ! You'll get fantastic and breathtaking views of the snow covered Alaska Mountain Range with its towering 20.320 feet high Mt. Denali. Short stopovers are at Denali National Park and Talkeetna before arriving in Anchorage in the evening at 8:00 PM. Transfer to your downtown hotel.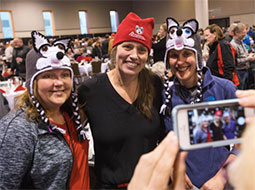 Anchorage (Mushers Banquet)
( Overnight: Anchorage )
Spend your free morning in and around Anchorage. At 4:00 PM join the Musher's Banquet Dinner at the Dena'ina Center. Main part of the exciting evening entertainment is the annual banquet fundraiser and drawing for the official start order. The banquet celebrates the mushers who are about to take part in the "Last Great Race on Earth" – the nearly 1,000-mile Iditarod Trail Sled Dog Race. Attendees can help raise funds for the Iditarod via a robust live and silent auction while enjoying a 3-course meal and watching the mushers take the stage to draw for their official start order. Participants have plenty of photo opportunities, good chances to meet and talk with the Iditarod Musher personally, collect autographs and participate in the auction.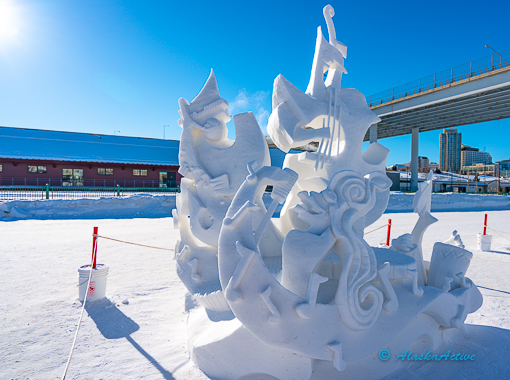 Anchorage (City Sightseeing Tour) 
( Overnight: Anchorage )
Explore the sights and highlights of Anchorage today during a guided city sightseeing tour. You'll visit the historical and scenic points of interest around Anchorage. Begin your historical tour from the heart of downtown where we'll visit the Port of Anchorage at Ship Creek, where Alaska's metropolitan was born as a tent city. Check out this year's snow sculptures and vote for your favorite. Take a stroll amongst the towering sculptures and see if you can identify each artist's chosen theme. Next we'll travel through Bootleggers Cove, stopping for a walk in Earthquake Park where you'll see signs of the 1964 earthquake. Then, we'll take a drive around Lake Hood, home to the world's busiest seaplane airport and base! Stop at the Lakefront Hotel to see the Iditarod Headquarters, race info and gift items.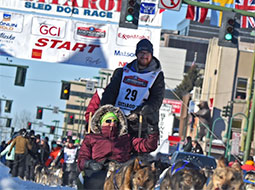 Anchorage (Iditarod Ceremonial Race Start)
( Overnight: Anchorage )
The legendary Iditarod Race starts at 10 AM on 4th. Avenue in Anchorage. Observe the start preparations, take close up pictures from about 80 Musher's, over 1000 Sled Dogs and enjoy the bustling and exciting race atmosphere before the teams are leaving from the starting line for the "1050 mile race to Nome". Anchorage parks and green belts are providing also a great alternative to observe the race activities. The Balto Statue marks the ceremonial starting point of the Iditarod. Balto was the final lead sled dog in a relay of dogsleds that brought vaccine from Anchorage to Nome just in time to stop a diphtheria epidemic in 1925. The story of the sled dog relay is a classic tale of adventure and sacrifice, as mushers risked their lives in brutal conditions to save their fellow citizens.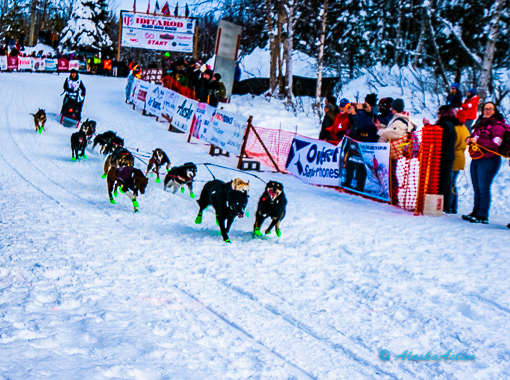 Anchorage (Iditarod Race Start Willow)
( Overnight: Anchorage )
After breakfast board the motorcoach for a guided tour to the official Iditarod Race Start in Willow. Leave at 10 AM and enjoy the drive along the scenic Glenn Highway with a brief stopover in Wasilla. Continue to Willow where the Iditarod restart ceremony begins at 2:00 PM. Enjoy the busy and bustling Iditarod race atmosphere and the musher's final preparation. For mushers, thousands of cheering fans at the official race restart -- following Saturday's ceremonial start in Anchorage -- now give way to remote Alaska wilderness and the promise of a finish line in Nome some 1,000 miles away, but not before crossing a trail that may prove perilous for both mushers and dogs. Return to Anchorage approximately 7:00 PM.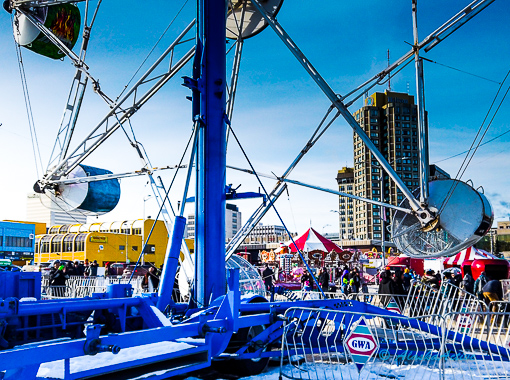 Anchorage
Morning at leisure in/around Anchorage. Time for your last shopping activities or have a delicous seafood lunch in one of Anchorage's top restaurants. Spend some time at the Alaska Native Heritage Center: the Gathering Place is center stage for Alaska Native dancing, compelling Native Games demonstrations and intriguing storytelling. The Hall of Cultures features exhibits and demonstrating Alaska Native artists. Visitors discover more about each of the five major culture groups through engaging exhibits. Check out of your hotel and transfer to the airport.