Booking Request Inquire A Trip
Description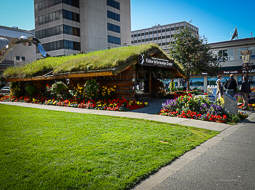 Your arctic tour starts with the flight from Fairbanks at 8 AM, north across the Arctic Circle, to Coldfoot where you'll stopover and stretch your legs. Pick up lunch (not included) at the Coldfoot Camp Trucker's Café and continue your flight to the ancient Inupiat Eskimo village of Utqiaġvik (Barrow). Arrive in Barrow at noon where you tour guide will welcome you at the airport.
Join this morning a guided tour of the village which brings you to have a close peek into the lifestyles of Alaska's Arctic Coastal peoples. Meet the Inupiat Eskimo people while enjoying a cultural program presented by volunteers sharing their culture with visitors. The Inupiat Heritage center houses cultural and historical artifacts that depict the Inupiat heritage. The center's permanent exhibit, created with community collaboration, details Inupiat contributions to the development of the worldwide whaling industry. Activities at the center include public arts and crafts demonstrations along with cultural performances, such as traditional games, drumming, dancing and the Blanket Toss Festival. Your sightseeing tour of Barrows continuous to the Arctic Ocean. You may see snowy owls, eider ducks and others of the 230 bird species which summer here. Enjoy a walk on the tundra and permafrost near the northernmost point on the North American Continent. Stand in a whale bone arch and inside the skeletal jaws of a bowhead whale on the shore of the Arctic Ocean. If you are brave, you can dip your toe in the frigid waters! At 2 PM, you'll depart Utqiaġvik for Fairbanks. Arrive in Fairanks between 6 –7 PM.
----------------
** WEATHER ALTERATIONS AND THE UTQIAGVIK EXPEDITION
Weather in Alaska's Arctic can and does affect flying conditions. Weather may require alteration of a portion or all of the scheduled tour itinerary.
Due to the variable conditions on the Arctic Coast, the Utqiaġvik Expedition includes a built-in weather alternate. If current or forecast weather conditions do not allow us to land at Utqiaġvik we visit another village, Anaktuvuk Pass. If weather does not allow us to land at Utqiaġvik or Anaktuvuk Pass, we visit the communities of Coldfoot & Wiseman. The price differentiation follows:
Anaktuvuk Pass --- $599 / person
Coldfoot/Wiseman --- $569 / person
It is very important that guests understand these alternatives and are aware that these are built-in to the experience. If the above mentioned alternative scenario is not consistent with what one is looking for in a tour experience, the Utqiaġvik Expedition is NOT the appropriate choice.
Should weather require an overnight stay, guest is responsible for cost of accommodations.