Booking Request Inquire A Trip
Itinerary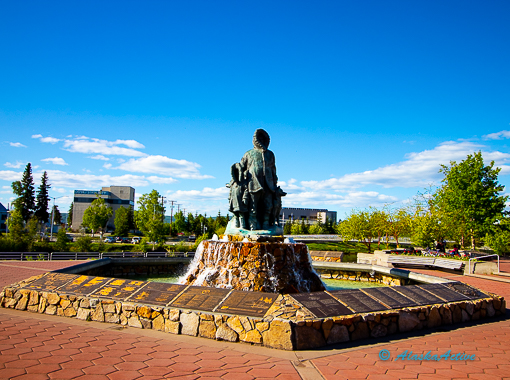 Fairbanks | Start Self Drive Tour
( Overnight: Fairbanks )
Arrive in Fairbanks during the day and pick up your rental car. Welcome to the "Golden Heart City". You are invited to explore the local gold rush history, its vibrant traditional native cultures as well as abundant wildlife and fantastic scenery. This morning you may visit the renown Alaska University Museum featuring Alaska's natural history best collection, Alaskaland or take an authentic sternwheeler on a scenic 20-mile roundtrip cruise down the Chena and Tanana Rivers. Guided van tour along the Dalton Highway or flightseeing tour to the Arctic Circle is super popular choice for experiencing the Arctic Circle and Yukon River. Enjoy a bush mail plane flight or a flightseeing trip to Fort Yukon to understand as well as experience how the Gwich'in Athabascan Natives live in "Bush" Alaska.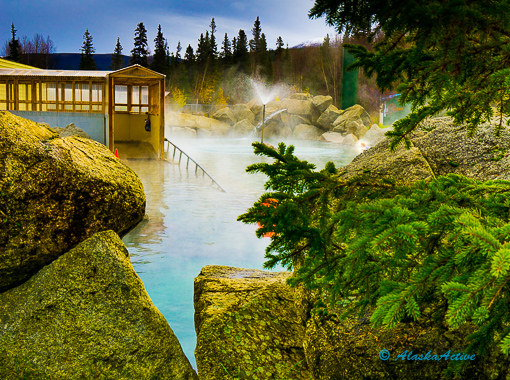 Fairbanks – Chena Hot Springs Resort
( Driving Distance: 65 miles | Overnight: Chena Hot Springs Resort )
Leave Fairbanks this morning and take the Chena Hot Springs Road. Along the way, you'll pass the town of Two Rivers, where residents claim that there are at least two sled dogs for every person. The best places to look for moose are in the water holes of Chena River and ponds along the road. Arrive at Chena Hot Springs Resort, a full service, year-round resort with the most developed hot springs destination in Alaska. World famous for its legendary healing mineral waters, beautiful Aurora Borealis displays in fall and winter, renewable energy projects, and the Aurora Ice Museum-a year round geothermal technology wonder. During summertime, Chena Hot Spring Resort offers many activities including hiking, biking, dog pulling, ATVing, scenic flights above the Alaskan bush.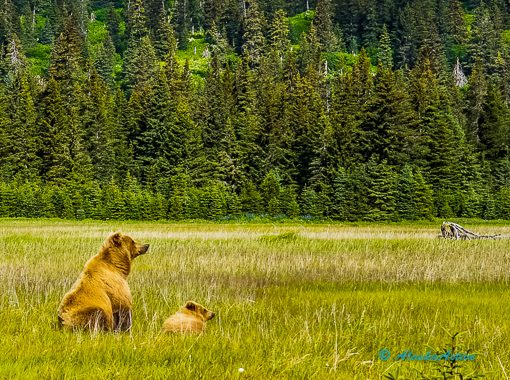 Chena Hot Springs Resort – Fairbanks | End of Self Drive Tour
( Driving Distance: 65 miles | Overnight: Fairbanks )
Spend some time this morning in the large indoor heated pool or in the natural outdoor rock lake for relaxation. The on-site Aurora Ice Museum is a special attraction and was created from over 1,000 tons of ice and snow, all harvested at the resort. Grant yourself to a "Appletini" beverage served in an ice glass. Return to Fairbanks during the day. You can visit Santa Clause House in North Pole, just south of Fairbanks where Christmas is celebrated year round. See live reindeer and have a letter sent postmarked with North Pole. In the evening enjoy a dinner at the Pump House on the banks of the Chena River. Drop off your rental car this evening.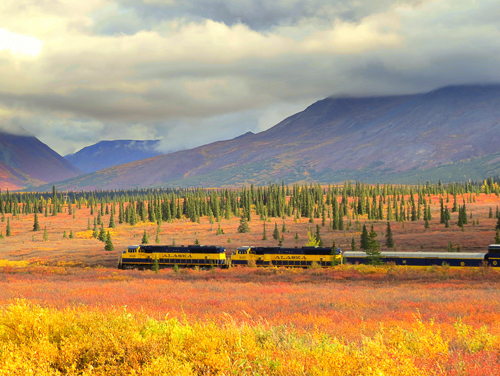 Fairbanks – Denali National Park | Rail Tour
( Overnight: Denali Village )
Enjoy the scenic ride onboard the Alaska Railroad to Denali National Park. Choose between the standard rail car or the glass-dome compartments with large panorama windows ensuring unobstructed views of snowcapped mountain ranges, pristine scenery and abundant wildlife. The train passes through the small community of Nenana, known for the Nenana Ice Classic Lottery. Just north of the Denali park, the train winds along Healy Canyon, following the curves of the Nenana River below. Arrive at Denali Village at noon. Transfer to your hotel and check into your room. Once you settled take a stroll through Denali Village, join a flightseeing tour, wildwater rafting trip or visit Jeff King's Husky Homestead Kennel for a personal tour with four-time Iditarod champion Jeff King and his sled dogs.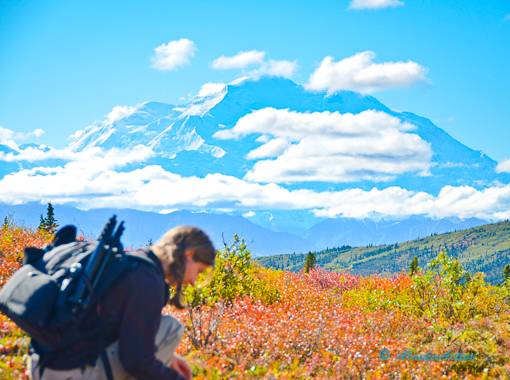 Denali National Park
( Overnight: Denali Village )
Denali National Park offers excellent wildlife viewing and spectacular sceneries. Pick up your tickets, board the bus and watch out for grizzly bears, moose, caribou, wolf and fox moving along the ridges and river beds. Your driver informs about the history of Denali National Park, its diverse wildlife and flora. Once an animal has been spotted the bus will stop that everyone can watch and take pictures. The bus turns around at Eielson Visitor Center - 66 miles one way/8 hours round trip. You can get off the bus anytime to go for a hike. Return to the Denali Park entrance anytime during the day. Optional: We can extend the transit bus tour to Wonder Lake or exchange to the Tundra Wilderness Tour, Kantishna Wilderness Trails or Backcountry Lodge Tour. Included: Denali Transit Bus to Eielson Center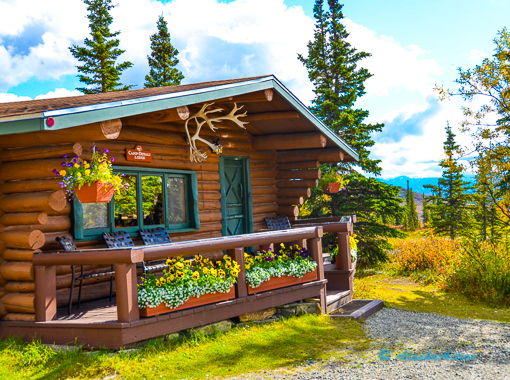 Denali National Park – Anchorage | Rail Tour
( Overnight: Anchorage )
Board the Alaska Railroad and relax in your comfortable reclining seats, have a delicious lunch onboard or listen to the commentaries from an onboard interpreter. Just south of Denali you'll enter Broad Pass, offering majestic views of the Alaska Range in all directions. Your rail tour continues via Wasilla and crosses the Knik River with the Chugach Mountains as a backdrop before arriving in Anchorage, Alaska's largest city. Nestled along the Chugach Mountains, the coastal city is brimming with activities for the outdoorsy and adventurous, as well as the more relaxed. Visit the Log Cabin Visitor Center and its Crossroad, Ship Creek Viewpoint overlooking Cook Inlet and the Resolution Park with its Captain Cook Monument. Try out one of the popular seafood restaurants this evening.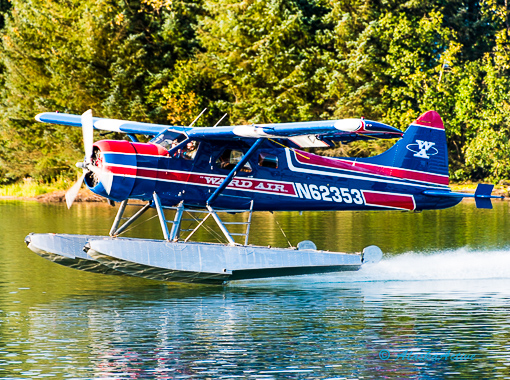 Anchorage
Spend some time at the Alaska Native Heritage Center: the Gathering Place is center stage for Alaska Native dancing, compelling Native Games demonstrations and intriguing storytelling. The Hall of Cultures features exhibits and demonstrating Alaska Native artists. Visitors discover more about each of the five major culture groups through engaging exhibits. The Theatre hosts a variety of movies all day, including the Heritage Center produced film, "Stories Given, Stories Shared". Guests stroll through six authentic life-sized Native dwellings around beautiful Lake Tiulana and are introduced to the traditional life ways of the native people. Check out of your hotel and transfer to the airport.