Booking Request Inquire A Trip
Itinerary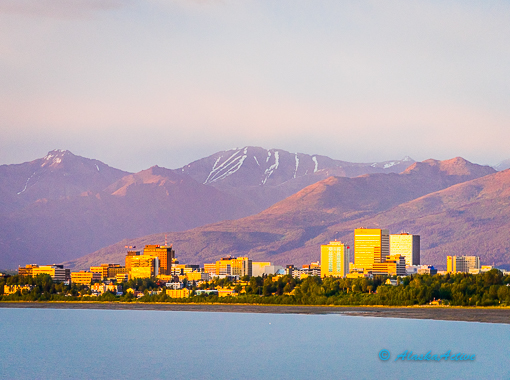 Anchorage
( Overnight: Anchorage )
Welcome to Alaska ! Pick up your rental car in Anchorage and drive to your hotel in downtown. The remaining day is at leisure. Explore Alaska's largest city and visit the many points of interests. Take a walk on the Coastal Trail along Cook Inlet to Earthquake Park with a magnificent view of the snow capped Alaska Mountain Range in the distance, visit Alyeska – Alaska's largest Ski Resort or have a delicious dinner at one of Anchorage's top seafood restaurants. During February and March Anchorage hosts the annual Fur Rondy, Ice Carving Festivals, the Iditarod Sled Dog Race and other fun winter events.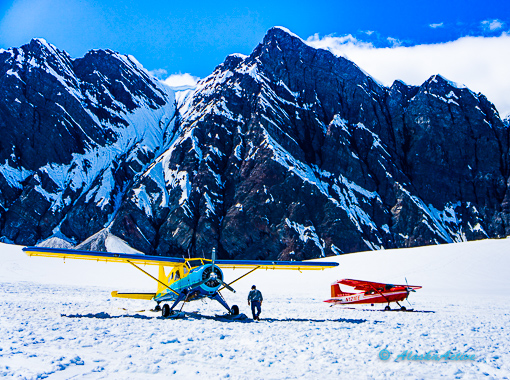 Anchorage – Talkeetna
( Driving Distance: 120 miles | Overnight: Talkeetna )
The grandness of the nature starts right from Anchorage itself and driving every mile on the Parks Highway gets even better. It is a treat to watch the mountain peaks crowned with snow caps in the distance. On a clear day, a spectacular view of Denali rises into view above the Susitna River. And anywhere along the highway, a watchful eye may be rewarded with the sight of a moose in the wild. Arrive at your beautiful mountain lodge in Talkeetna with breathtaking views of Mt. Denali. Watch the Aurora Borealis at night dancing on the northern sky.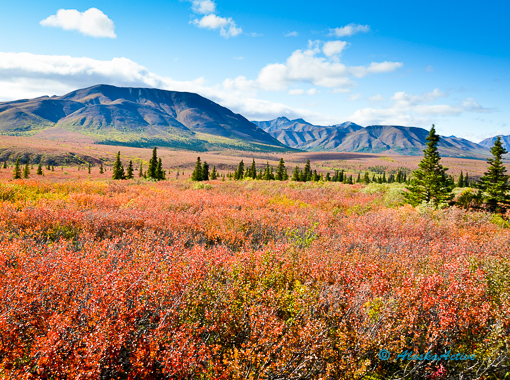 Talkeetna – Denali National Park
( Driving Distance: 150 miles | Overnight: Denali Village )
The journey from Talkeetna to Denali National Park offers a lot of possibilities of wildlife sightings. Even if you are not eagle eyed, a few cars stopped over somewhere means that there could be a possibility of wildlife spotting! Byers Lake on the way offers visitors the choice to rent a canoe or kayak. Once you cross Denali State Park, you'll arrive at Denali Village. The Denali Park office is your rich information chase and it provides details on ranger-naturalist programs, slide shows and sled dog demonstrations. Jeff King's Husky Homestead Kennel is a very popular choice for a personal tour with four-time Iditarod champion Jeff King and his sled dogs. Visitors can also choose a rafting trip on the Nenana River as well as an ATV Tour in the backcountry adjacent to Denali National Park.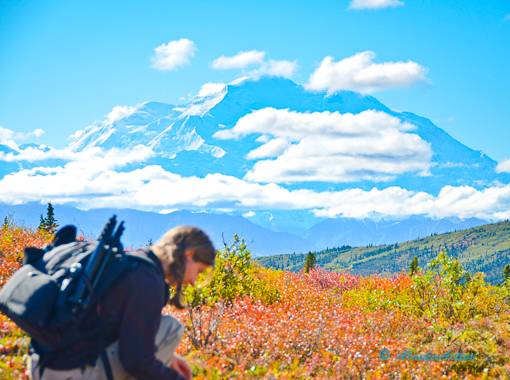 Denali National Park
( Overnight: Denali National Park )
Denali National Park offers excellent wildlife viewing and spectacular sceneries. Pick up your tickets, board the bus and watch out for grizzly bears, moose, caribou, wolf and fox moving along the ridges and river beds. Your driver informs about the history of Denali National Park, its diverse wildlife and flora. Once an animal has been spotted the bus will stop that everyone can watch and take pictures. The bus turns around at Eielson Visitor Center - 66 miles one way/8 hours round trip. You can get off the bus anytime to go for a hike. Return to the Denali Park entrance anytime during the day. Optional: We can extend the transit bus tour to Wonder Lake or exchange to the Tundra Wilderness Tour, Kantishna Wilderness Trails or Backcountry Lodge Tour. Included: Denali Transit Bus to Eielson Center.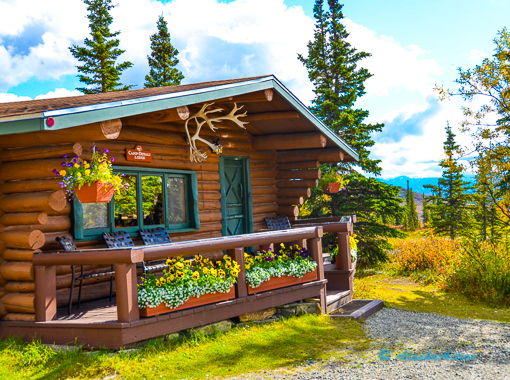 Denali National Park – Fairbanks
( Driving Distance: 130 miles | Overnight: Fairbanks)
Join this morning the sled dog demonstration hosted by Denali Park Rangers or hike around the Denali Visitor Center. Start your drive on the Richardson Highway and stopover at Nenana. Residents of Nenana sponsor the Nenana Ice Classic, a nature-based lottery. It is a fundraising event in which individuals attempt to guess the exact time the Tanana River ice will break up. Once you get to dig into it more interesting details emerge! Arrive in Fairbanks, the largest city in the Interior region of Alaska, which enjoys 24 hr of daylight during summer. This afternoon board the authentic Riverboat Discovery sternwheeler for a cruise along the Chena and Tanana rivers. Highlight is stopover at an Athabascan Indian Village, Susan Butcher's sled dog kennel and a floatplane take off & land.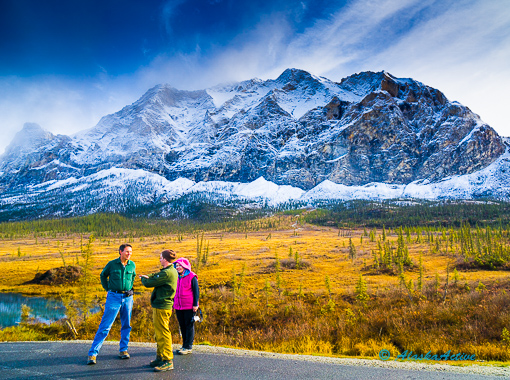 Fairbanks
( Overnight: Fairbanks )
The allure of crossing the Arctic Circle becomes a possibility once you reach Fairbanks. Guided van tours along the Dalton Highway or flight tours to the Arctic Circle and Yukon River is a super popular choice. Join a bushplane flight to Fort Yukon to understand as well as experience how the Gwich'in Athabascan Natives live in "Bush" Alaska. As mentioned earlier Fairbanks becomes a hub for very many activities and the list keeps going on. Visiting Chena Hot Springs Resort can be added to the 'To-Do' List! Chena Hot Springs Resort offers a large indoor heated pool and a natural outdoor rock lake for relaxation. The on-site Aurora Ice Museum is a special attraction and was created from over 1,000 tons of ice and snow, all harvested at the resort.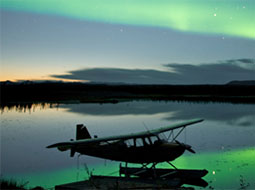 Fairbanks – Chena Hot Springs Resort
( Overnight: Chena Hot Springs Resort )
Leave Fairbanks this morning and take the Chena Hot Springs Road. Along the way, you'll pass the town of Two Rivers, where residents claim that there are at least two sled dogs for every person. The best places to look for moose are in the water holes of Chena River and ponds along the road. Arrive at Chena Hot Springs Resort, a full service, year-round resort with the most developed hot springs destination in Alaska. World famous for its legendary healing mineral waters, beautiful Aurora Borealis displays in fall and winter, renewable energy projects, and the Aurora Ice Museum-a year round geothermal technology wonder. During summertime, Chena Hot Spring Resort offers many activities including hiking, biking, dog pulling, ATVing, scenic flights above the Alaskan bush.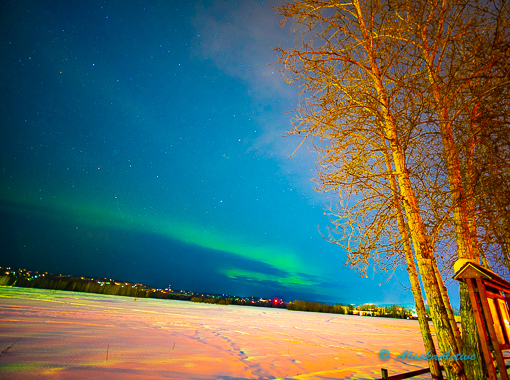 Chena Hot Springs Resort - Fairbanks
Spend some time this morning in the large indoor heated pool or in the natural outdoor rock lake for relaxation. The on-site Aurora Ice Museum is a special attraction and was created from over 1,000 tons of ice and snow, all harvested at the resort. Grant yourself to a "Appletini" beverage served in an ice glass. Return to Fairbanks during the day. You can visit Santa Clause House in North Pole, just south of Fairbanks where Christmas is celebrated year round. See live reindeer and have a letter sent postmarked with North Pole. In the evening enjoy a dinner at the Pump House on the banks of the Chena River. Drop off your rental car at the Fairbanks Airport.