Booking Request Inquire A Trip
Itinerary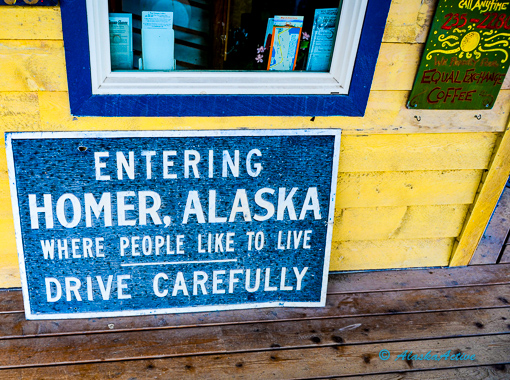 Whittier – Homer | Start Self Drive Tour
( Driving Distance: 185 miles | Overnight: Homer )
Pick up your rental car in Whittier. Drive via Whittier Tunnel and follow the Sterling Highway - a designated scenic highway covering miles of spectacular landscape with snowcapped mountains and many active volcanoes known as the "Ring of Fire" with Mt. Iliamna, Mt. Redoubt and Mt. Augustine, excellent salmon fishing along the Kenai & Russian River and a magnificent coastline. Homer is blessed with a view to the south that is stunning in its beauty and grandeur. The rugged Kenai Mountains are spreading across the sparkling waters of Kachemak Bay. Homer is known as the "Halibut Capital of the Worl"". King Salmon are caught here from May to June, while Silver Salmon run during August. Halibut - large as a barn size door are available from May - Sept.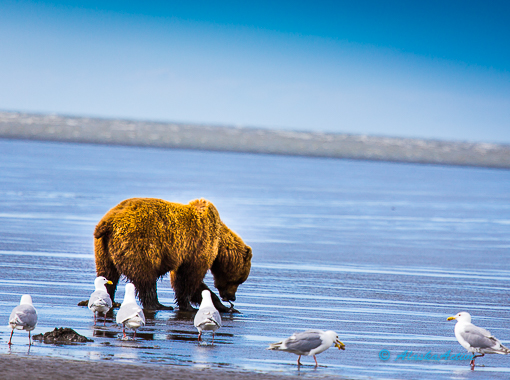 Homer
( Overnight: Homer )
Homer offers incredible panoramic views of mountain ranges, glaciers and famous Homer Spit - a long strip of land that stretches into pristine Kachemak Bay. Use the day to explore the area - kayak to a remote cove, go hiking or fishing. Homer is just a short flight away from Katmai National Park and Lake Clark, one of the most densely populated brown bear areas in the world. A picture-perfect flightseeing trip takes you over Cook Inlet to Katmai Coast. Watch bears digging for clams, wandering the sedge grass, or nursing their young. Another option is the day trip to iconic Brooks Falls in the middle of Katmai, famous for bears swatting at Salmon making their way upstream. In the evening join a cruise to Halibut Cove, have dinner at the "Saltry" and visit art galleries along the boardwalk.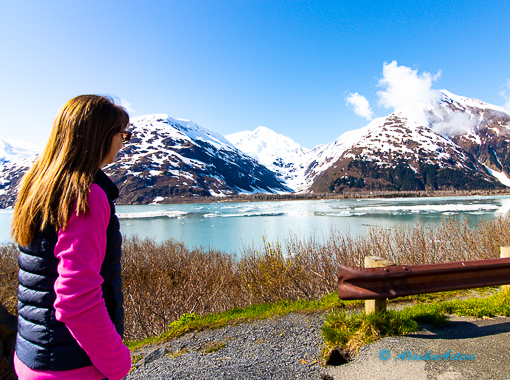 Homer – Seward
( Driving Distance: 170 miles | Overnight: Seward )
Leave Homer for a scenic drive to Ninilchik - the oldest settlement on the Kenai Peninsula. The Russian-American Company established Ninilchik in the 1820s for its elderly and disabled employees, who could not endure the long journey back to Russia. Arrive in Seward, a small fishing community at the gateway to Kenai Fjords National Park. Kenai Fjords is named for the numerous fjords carved by glaciers moving down the mountains from the ice field. The field is the source of at least 38 glaciers, the largest of which is Bear Glacier. This afternoon you have time to visit Exit Glacier. Short trails lead to the edge of the glacier where you can take a good photo in front of glacier ice. You may spend some time at the Alaska SeaLife Center – the world's first cold water marine search institute.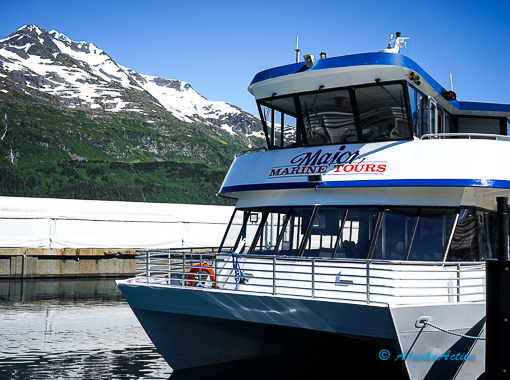 Seward
( Overnight: Seward )
This morning board the stable catamaran for a spectacular cruise deep into Kenai Fjords National Park with actively "calving" glaciers and magnificent scenery. Covering 110-miles, the trip is narrated by a National Park Ranger, who is highly adept at spotting wildlife and pointing out the many sights. Kenai Fjords showcase the best of Alaska's marine world in a compact package. Kittiwakes, puffins and other seabirds nest along cliff faces just above the swells. Sea otters float belly-up eating mussels while Harbor seals haul out on icebergs off Aialik Glacier. Look out for Steller sea lions on Chiswell Island as well as Humpback and killer whales. After reaching the tidewater glacier, guests witness "glacier calving" a process by which glaciers shed giant slabs of ancient ice.Included: Kenai Fjords Glacier Cruise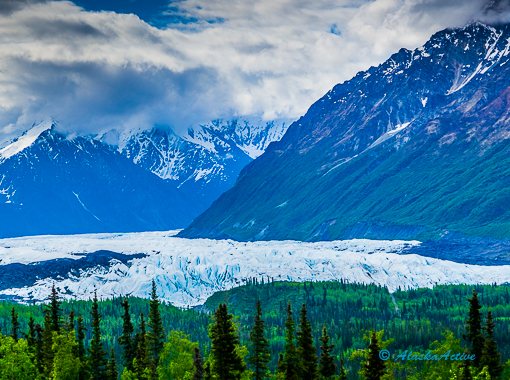 Seward – Matanuska Glacier
( Driving Distance: 230 miles | Overnight: Glacier View )
Spend some time in the morning at the Alaska SeaLife Center before taking the Seward Highway north towards Anchorage. Feel free to take a break at the Alaska Wildlife Conservation Center and at the designated photo stops to enjoy the panoramic views over Cook Inlet. Drive past Anchorage and continue on the Glenn Highway across the Matanuska Valley - a fertile farmland that was settled by families as part of a New Deal relief program in 1935. Because of the fertile farmland and the immense amount of summer sunlight, vegetables grow to incredible sizes. The Alaska record cabbage is 106 pounds! This is just one of the attractions at the State Fair held in Palmer. Overnight at a lodge with scenic views of the Matanuska Glacier.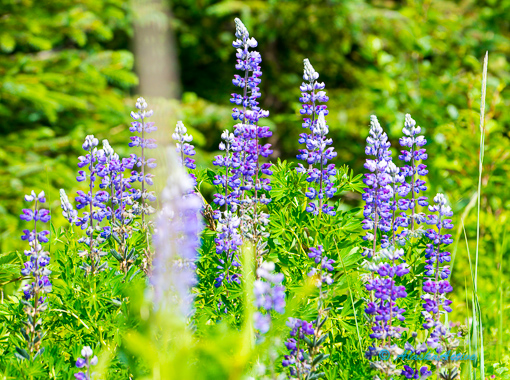 Matanuska Glacier – Fairbanks
( Driving Distance: 320 miles | Overnight: Fairbanks )
The Matanuska Glacier is one of Alaska's most accessible glaciers, a 27-mile long river of ice poking out of the Chugach Mountains that is visible for miles along the highway. A self-guided hike leads to the gravel-laced ice. Continue on the Glenn Highway towards Glennallen. This area is known as a paradise for anglers during the famed Copper River Red Salmon runs. Continue on to Delta Junction - a telegraph station established in 1904. Delta Junction is home to the 90,000-acre Delta Bison Sanctuary, which was created to contain a free-roaming herd of more than 500 animals. The area features spectacular views of the Alaska Range and the Delta River. On clear days the panoramas of Mount Hayes, Mount Moffit and other peaks are stunning.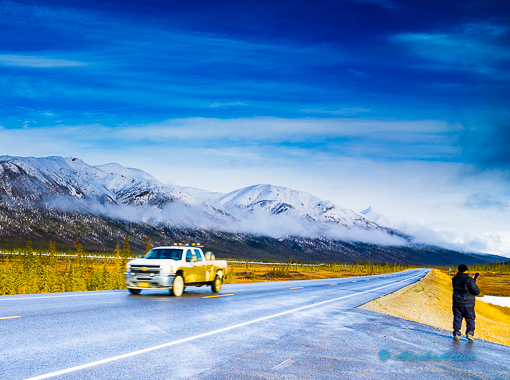 Fairbanks | End of Self Drive Tour
( Overnight: Fairbanks )
The allure of crossing the Arctic Circle becomes a possibility once you reach Fairbanks. Guided van tours along the Dalton Highway or flight tours to the Arctic Circle and Yukon River is a super popular choice. Join a bushplane flight to Fort Yukon to understand as well as experience how the Gwich'in Athabascan Natives live in "Bush" Alaska. As mentioned earlier Fairbanks becomes a hub for very many activities and the list keeps going on. Visiting Chena Hot Springs Resort can be added to the 'To-Do' List! Chena Hot Springs Resort offers a large indoor heated pool and a natural outdoor rock lake for relaxation. The on-site Aurora Ice Museum is a special attraction and was created from over 1,000 tons of ice and snow, all harvested at the resort. Drop off your rental car in Fairbanks.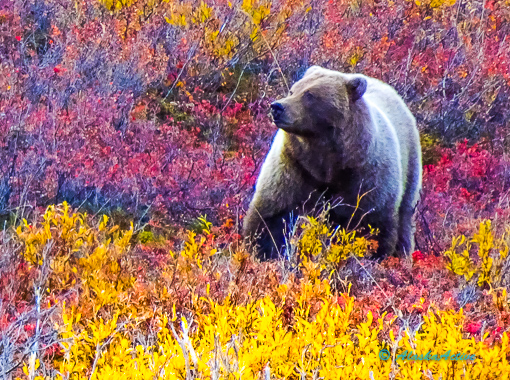 Fairbanks – Denali National Park | Rail Tour
( Overnight: Denali Village )
Enjoy the scenic ride onboard the Alaska Railroad to Denali National Park. Choose between the standard rail car or the glass-dome compartments with large panorama windows ensuring unobstructed views of snowcapped mountain ranges, pristine scenery and abundant wildlife. The train passes through the small community of Nenana, known for the Nenana Ice Classic Lottery. Just north of the Denali park, the train winds along Healy Canyon, following the curves of the Nenana River below. Arrive at Denali Village at noon. Transfer to your hotel and check into your room. Once you settled take a stroll through Denali Village, join a flightseeing tour, wildwater rafting trip or visit Jeff King's Husky Homestead Kennel for a personal tour with four-time Iditarod champion Jeff King and his sled dogs.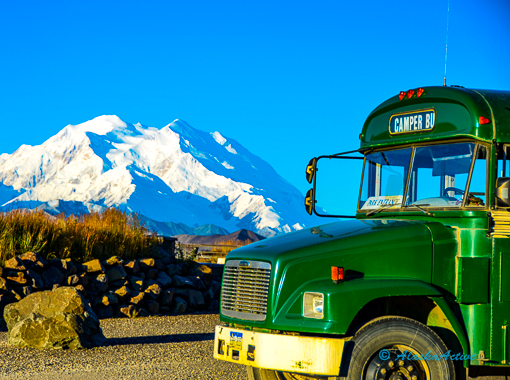 Denali National Park
( Overnight: Denali Village )
Denali National Park offers excellent wildlife viewing and spectacular sceneries. Pick up your tickets, board the bus and watch out for grizzly bears, moose, caribou, wolf and fox moving along the ridges and river beds. Your driver informs about the history of Denali National Park, its diverse wildlife and flora. Once an animal has been spotted the bus will stop that everyone can watch and take pictures. The bus turns around at Eielson Visitor Center - 66 miles one way/8 hours round trip. You can get off the bus anytime to go for a hike. Return to the Denali Park entrance anytime during the day. Optional: We can extend the transit bus tour to Wonder Lake or exchange to the Tundra Wilderness Tour, Kantishna Wilderness Trails or Backcountry Lodge Tour. Included: Denali Transit Bus to Eielson Center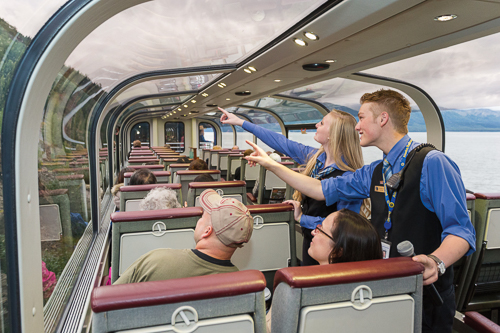 Denali National Park – Anchorage | Rail Tour
( Overnight: Anchorage )
Board the Alaska Railroad and relax in your comfortable reclining seats, have a delicious lunch onboard or listen to the commentaries from an onboard interpreter. Just south of Denali you'll enter Broad Pass, offering majestic views of the Alaska Range in all directions. Your rail tour continues via Wasilla and crosses the Knik River with the Chugach Mountains as a backdrop before arriving in Anchorage, Alaska's largest city. Nestled along the Chugach Mountains, the coastal city is brimming with activities for the outdoorsy and adventurous, as well as the more relaxed. Visit the Log Cabin Visitor Center and its Crossroad, Ship Creek Viewpoint overlooking Cook Inlet and the Resolution Park with its Captain Cook Monument. Try out one of the popular seafood restaurants this evening.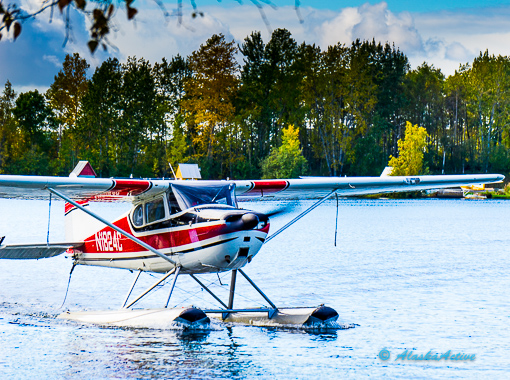 Anchorage
Time for your favourite activity - join a bear viewing day tour to Brooks Falls in Katmai National Park or to Silver Salmon Creek in Lake Clark, take a scenic glacier & wildlife cruise deep into Prince William Sound or explore the local attractions. A picture-perfect flightseeing trip takes you over Cook Inlet to Katmai Coast. Watch bears digging for clams, wandering the sedge grass, or nursing their young. Another option is the day trip to iconic Brooks Falls in the middle of Katmai, famous for bears swatting at Salmon making their way upstream. The Prince William Sound is one of the few places left in the world where a concentration of glaciers can be found in such abundance. View majestic alpine and tidewater glaciers covered with ancient ice and observe a large variety of marine wildlife.